Juniper Ridge Irrigation Hydroelectric Pipeline
Replacing a porous canal with efficient LifeLast DuraShield lined and coated welded steel pipe enabled an irrigation district to create hydroelectric energy, restore fish habitat as well as water their crops.
AWWA C222 industry standard compliant for interior and exterior of steel water pipe and fittings.
The Central Oregon Irrigation District (COID) looks at irrigation canals as more than just a way to distribute water from the Deschutes River to farmers and ranchers. With rising energy costs and the desirability of renewable energy sources, the power of water rushing through their canals is viewed as a source of power and revenue.
In 2009 construction began to enclose 13,000 lineal feet of The Juniper Ridge Canal which runs for 22 miles, north of Bend, Oregon. Slayden Construction Group installed the 108" welded steel pipeline milled at Northwest Pipe's Portland, Oregon facility. The pipeline was lined and coated with LifeLast DuraShield 210 polyurethane at 40 and 25 mils respectively.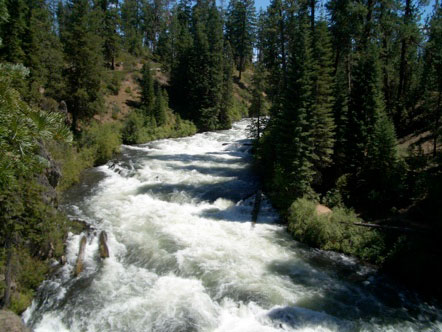 By conserving water supplies previously lost through porous canal, the Juniper Ridge Project will benefit Deschutes River salmon and reintroduced steelhead. Approximately 20 cubic-feet-per second of water, presently diverted from the Deschutes River for irrigation purposes by COID, will be permanently returned to the river, increasing in-stream river flows for fish and wildlife species. "This project will improve water quality and fish habitat in a very important part of Oregon," said Dick Pedersen, Director of the Oregon Department of Environmental Quality.
At the terminus of the pipeline, a small hydropower unit was installed. This state-of-the-art unit will generate up to 3.37 megawatts of clean, renewable electricity annually. That's enough power for roughly 2,000 homes. District patrons will also benefit; the project will modernize district conveyance facilities and improve overall system efficiency.
LifeLast is honored to be a sponsor and partner in the renewable energy movement. The physical properties of DuraShield polyurethanes, including low coefficient of friction, make LifeLast the industry choice for linings and coatings of welded steel pipe for hydroelectric applications. Plus LifeLast's products are 100% solids and bio-based, a solution that is eco-friendly and efficient for the project owner and the surrounding environment.
Questions or technical assistance on your specification or project?
Contact us; we're happy to help. Email us at info@LifeLast.com or call (512) 628.2112.